Check out our new community website with lots of home learning activities and useful information. Visit www.transform-trust.co.uk
Kick Start your career

The application round opens on 13th October for the SCITT recruitment 2022/23.
Click here to apply.
Transform Trust Information Events:
Do you want to find out more about Transform Trust and training to teach in Nottingham City or Derby City? Come along to the
Transform Trust Information Events:
•  Thursday, 9 December 2021, 16:00 – 17:00  |  Transform Trust Event (Click to book)
•  Wednesday, 19 January 2022, 10:00 – 12:00  |  Transform Coffee Morning (Click to book)
•  Thursday, 27 January 2022, 16:00 – 17:00  |  Transform Trust Open Evening (Click to book)
Do you care about children from all backgrounds and communities achieving their potential, widening their perspectives and aspirations?
As a trainee teacher with Transform Trust you will be in the heart of our vibrant and diverse school communities making a daily difference to children.
Book your place now!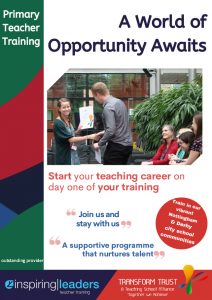 Do you want to make a difference and provide opportunities for all children to achieve their best?
Train to teach with Transform Trust and be part of our vibrant and diverse school communities, working in our urban hubs as role models and innovators in our culturally rich schools.
Transform Trust invests in you – personally and professionally. You will be supported by a network of experienced colleagues from the very beginning of your teaching career as you grow a strong professional identity, build leadership confidence and develop effective behaviours. We believe we are better together so we commit to being At Our Best as a team. Read what one of our 2019/20 trainees had to say about Transform below.
We are proud to offer aspirant teachers the chance to train in Nottingham City and Derby City through our new partnership with the Inspiring Leaders SCITT.
Our Inspiring Leaders SCITT programme is rated 'OUTSTANDING' and rooted in gaining school experience and offer both QTS and PGCE awards working with our University partners.
Click here or the image above to download our 'World of Opportunity' brochure.
To find out more about our outstanding training provision and specialist support, including support through your application process, please contact: Jayne Limb, Project Co-ordinator jayne.limb@transformtrust.co.uk
To apply to train with Transform Trust and Inspiring Leaders click here
Transform Trust work in partnership with Inspiring Leaders SCITT.
Our SCITT leaders work tirelessly to ensure that all trainees get a high quality, personalised experienced and excellent support. We work closely with our trainees throughout the course and beyond, taking pride in supporting many through to leadership roles.
Who are Inspiring Leaders?
Inspiring Leaders are an Outstanding provider of Initial Teacher Education.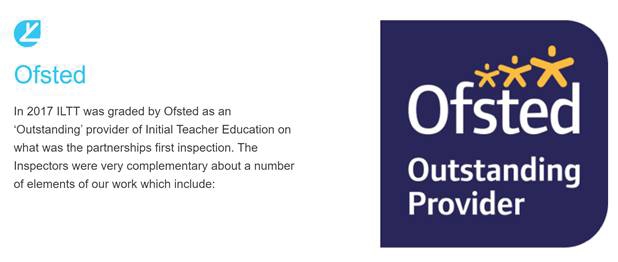 Leadership of the SCITT
Leadership and management of the partnership is outstanding. In the three years of operation, it has secured outstanding outcomes for trainees. The SCITT director and the professional tutors are highly skilled, dedicated and relentless in their pursuit of excellence. They are determined to ensure that provision is of the highest quality and that all trainees meet the teachers' standards at the highest level.
Inspiring Leaders Training Programme
The training programme is first class. Specialists, including Headteachers, senior leaders and specialist leaders of education (SLEs), are involved in the delivery. Trainees gain a multiplicity of opportunities to develop as practitioners, including in a range of differing, often challenging, school contexts. Trainees and NQTs said that their training was thorough and of extremely high quality.
Personalised Support for Each Trainee
Trainees receive outstanding-quality, highly tailored support in response to their emerging needs. This ensures that trainees experiencing difficulties are identified and then supported quickly, and those who are excelling are stretched and challenged effectively.
Quality Mentor Support
Trainees receive high-quality mentoring from their learning coach, including precise and targeted feedback against the teachers' standards. They work closely with their classroom mentor and, as a result, are quickly able to assimilate into the life of the school, comply with key policies and quickly cultivate strong relationships with staff and pupils.
Outstanding School Based Training
The highly practical, school-based nature of the training is valued by trainees because it means they learn from the very best teachers' practice and are given the time to apply their learning, academic research and training in their own classroom situations.
Want to know more about the Primary Course?
Our Primary courses embed a blend of practice, pedagogy and reflexivity to ensure you have the highest quality training year.
Trainees become reflective and adaptive to the evolving nature of teaching, ensuring the highest quality experience for their pupils through the constant and enhancing opportunities to apply their learning.
Applicants can choose from three courses. Primary 5-11, Primary 3-7, or Primary 5-11 with Maths.
Our school based training allows trainees to be immersed, in all aspects of school life, from the moment trainees arrive on the course. Trainees will be introduced to their host school before meeting the children, allowing them time to build positive and important relationships with key members of staff who will support them throughout their teacher training year.
From the moment trainees enter school on the first day they will be treated as a member of the staffing team, allowing them to build strong relationships with those in their class and around school. Through the support offered from their Class Mentor and Learning Coach, trainees will gradually take on additional responsibilities and be given more freedom to explore and apply their creativity. As trainees become more confident and independent in their teaching teaching they will begin to experience the gratification and the joy that comes from children learning what they have taught them.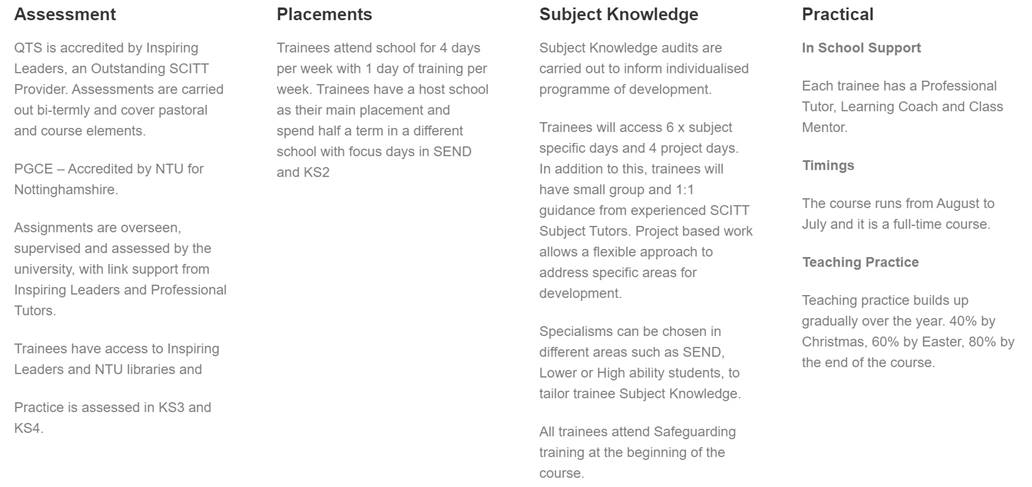 Our SCITT leaders work tirelessly to ensure that all trainees get a high quality, personalised experienced and excellent support. Working closely with our students throughout the course and beyond, taking pride in supporting many through to leadership roles.
Are you ready to start your journey?
We would love to hear from you to discuss how we can support your application to become a teacher.
Please contact us via phone by calling: 01159 825 090 or by email to:
Jayne.Limb@transformtrust.co.uk or Lisa.Vann@transformtrust.co.uk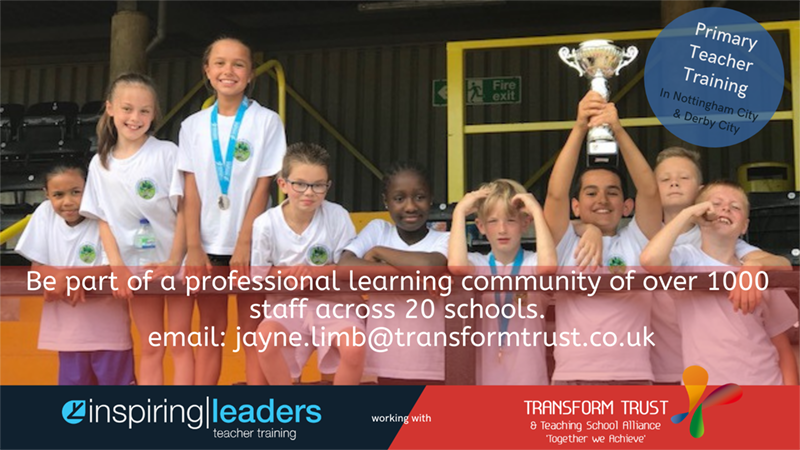 Case Study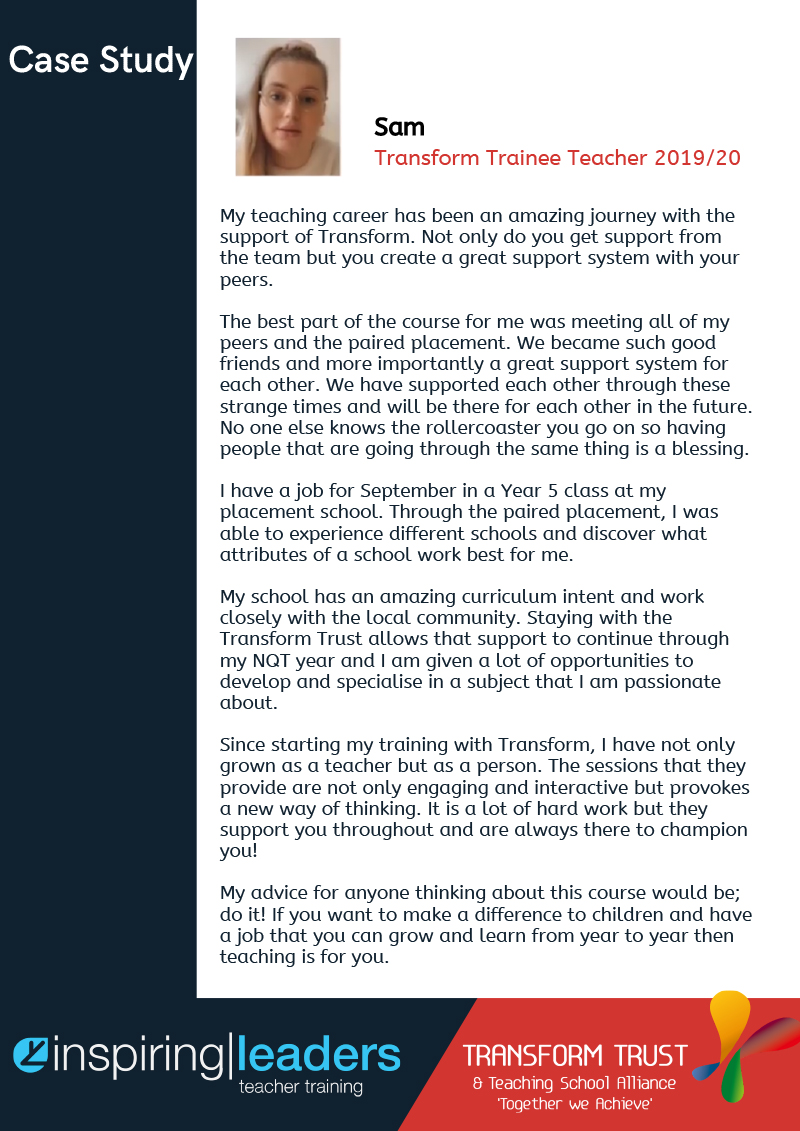 Interested in joining Transform Trust?