Ashbrook Junior School is acting on climate change by implementing new nature projects to their school grounds
We are excited to share with you some incredible eco news at one of our schools in Derbyshire. Ashbrook Junior School shas been making use of their idyllic school grounds by working on eco-conscious projects such as building a bug hotel and bottle greenhouse with future arrangements to plant more trees for The Queen's Green Canopy Project.
Earlier this month, world leaders came together for COP26 with many companies pledging to reach eco-goals in years to come. The children at Ashbrook Junior School wanted to play their part in building a greener future. All of their classrooms are named after inspirational figures such as David Attenborough, Malala Yousafzai and Greta Thunberg, with members of their own School Parliament pledging to have an environmental focus this academic year. Post-pandemic, schools across Transform Trust are finding creative ways to utilise the outdoors in their learning journey and Ashbrook Junior School is already paving the way by empowering and inspiring children to take their classroom learning out into the natural environment.
Year 3 and 4 students in Malala class led on building the school a bug hotel right next to their bottle greenhouse. This allowed the children to learn about different bug species, use a variety of natural materials and build something sustainable that can be re-used by the entire school. The school is set in an idyllic, leafy green part of Borrowash with plenty of natural resources for the school to complete Forest School activities, grow their own vegetables and the space to expand their provision even further. One way of doing this is by getting the community together to plant more trees as part of The Queen's Green Canopy Project. They are looking forward to doing this in the near future with parents coming onsite to experience this momentous occasion with their children.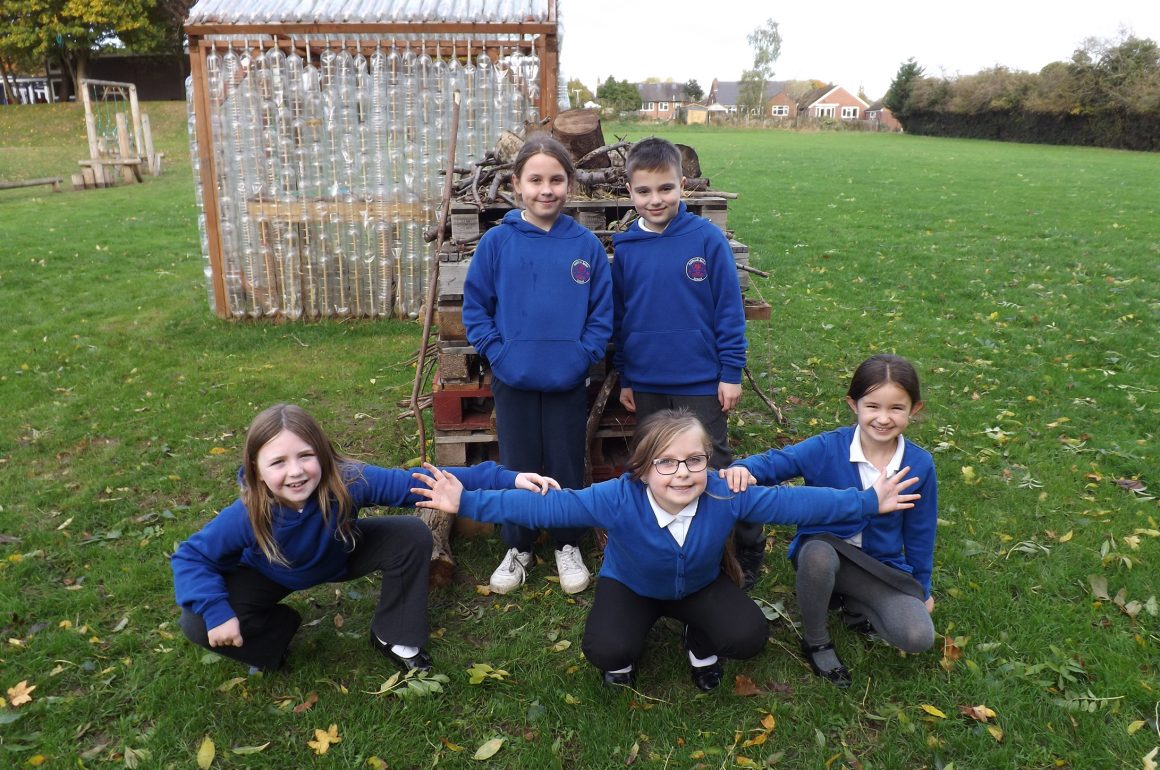 Mell Julian, Headteacher of Ashbrook Junior School said:
"We are a strong team at Ashbrook Junior School and together we achieve incredible things. Every term, whatever the weather brings, we take our learning outdoors. The children get to take part in many sustainability projects. For example, when digging out our new vegetable patch, we found a host of potatoes already there! Our cooks were delighted and used them for our lunches! With our fantastic bug hotel, it has encouraged children to work as a team and to build something with their own hands. They did an amazing job and now we have a really cool, strong, natural structure that allows us to observe creatures all year-round.
"Our School Parliament has been instrumental in making sure we are eco-conscious this year and they already have future plans to set in motion. We have a fantastic staff team to thank for affording our children such wonderful opportunities, they are totally devoted and amazing role models for our children. They instil within them our culture of kindness, sustainability and creativity, with respect for the natural world around us."
To keep up to date and find out more about Ashbrook Junior School, you can visit their website www.ashbrook-jun.derbyshire.sch.uk and follow them on Twitter @AshbrookJunior. To tell us about your eco-conscious projects and other great stories do tweet us @TransformTrust.