From bubbling liquid experiments to close-up explorations of genes, plants and fossils, science at Transform Trust brings infinite and exciting learning opportunities inside and outside of the classroom. To celebrate National Science Week (14th-18th March 2022) our young budding scientists from across our family of schools, gathered together at Brocklewood Primary School to showcase some of their favourite science-related topics and projects.
The electricity made from corn starch and circuit-building was matched by the energy in the room from the children, who were keen to share their expanded knowledge. Experiments with rainbow Skittles to demonstrate diffusion were popular, as were the shaving foam rain cloud experiments that illustrated saturation and gravity. Notably, there were a collection of experiments that focused on rectifying the pollution in our waters and lungs, with strong health and ecological messages at their core.
Prior to this event, Allenton Primary School explored the theme of 'Growth' during Science Week. The children learned about science-related careers and discovered interesting facts about the work of zoologists, botanists and geneticists, as well as completing a variety of experiments including seed planting and investigation, and shadow formation – i.e., how the rotation of the earth determines their shape. Their whole school 'sharing assembly' was especially exciting as it coincided with 'Red Nose Day', so aptly the power of science was demonstrated by a mass gathering of superheroes!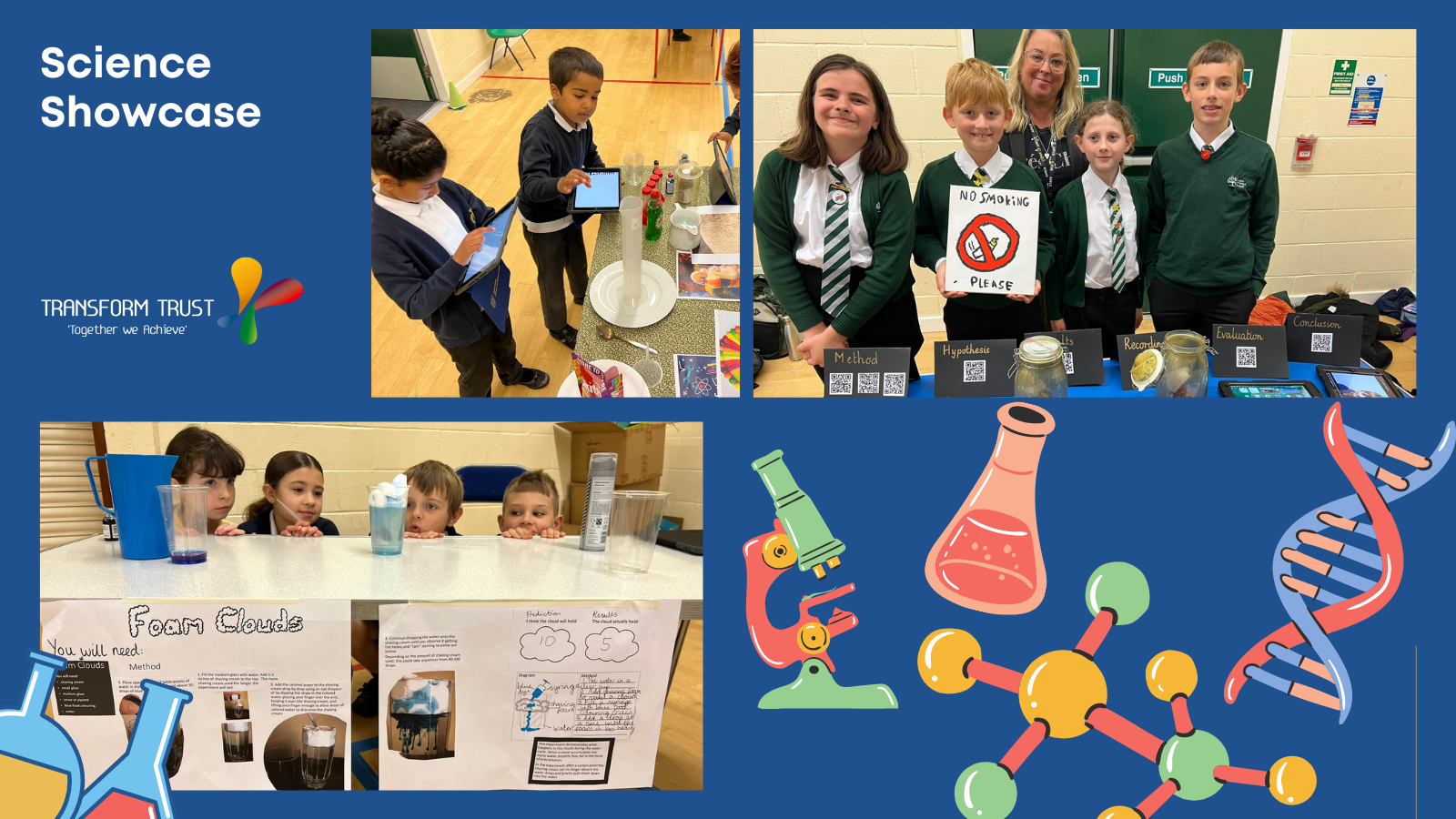 Tanya White, Associate Headteacher and Transform Trust Science Lead said:
"Today was all about coming together to raise the profile of science across all of our schools. Our Trust events provide an important platform for our young people to celebrate their learning and share ideas and, in this case, it was a great opportunity to enhance their enthusiasm for science.
"It is vital that we stimulate children's curiosity around science and its many facets. As Allenton Primary School discovered, our futures – employment, environment, development and safety – depend on critical scientific thinking and experimentation. It's our responsibility to encourage our children to fully embrace the magic of science at their fingertips and I'm delighted to see so many budding young scientists at Transform Trust ready to lead the way."
To keep up to date with all things science here at Transform Trust, you can follow Mrs White on Twitter here: (2) Tanya White FCCT (@MrsWhite1972) / Twitter.