This wonderful time of year is a great opportunity for schools across the Trust to put our values into action with kindness and generosity. Our own Christmas Jumper Day on December 10th not only raised a fantastic amount of money for Save the Children UK but it also encouraged our pupils to come together to gain an understanding and talk about the incredible work the charity does for young people.
The Transform Trust central team wanted to surprise us all by recording some extra special festive stories to share with our parent's children in the run up to Christmas. Every school across the Trust came together to make this time of year as magical as they possibly could for their children.
Our motto 'Together We Achieve' is at the heart of everything we do – because we know that teamwork is so vitally important both at school and in all aspects of life. Together we made sure that the run up to the Christmas holidays were filled with plenty of learning opportunities, creativity and most of all – fun! Thank you to everyone that participated in our festivities.
We can use our core values of Respect, Kindness, Equality and Creativity in so many ways and the simple act of wearing an aesthetically pleasing jumper sparked so many wonderful conversations across the Trust about the importance of charity work and how we can all keep making a difference.
The central team at Transform Trust HQ wore their best cosy jumpers and also raised money for Save the Children. They recorded some very special festive stories which have been shared with the children. Teachers were able to access the videos and streamed the stories straight to the classroom.  Bringing plenty of Christmas cheer and laughs for everyone across the Trust – it was a brilliant day!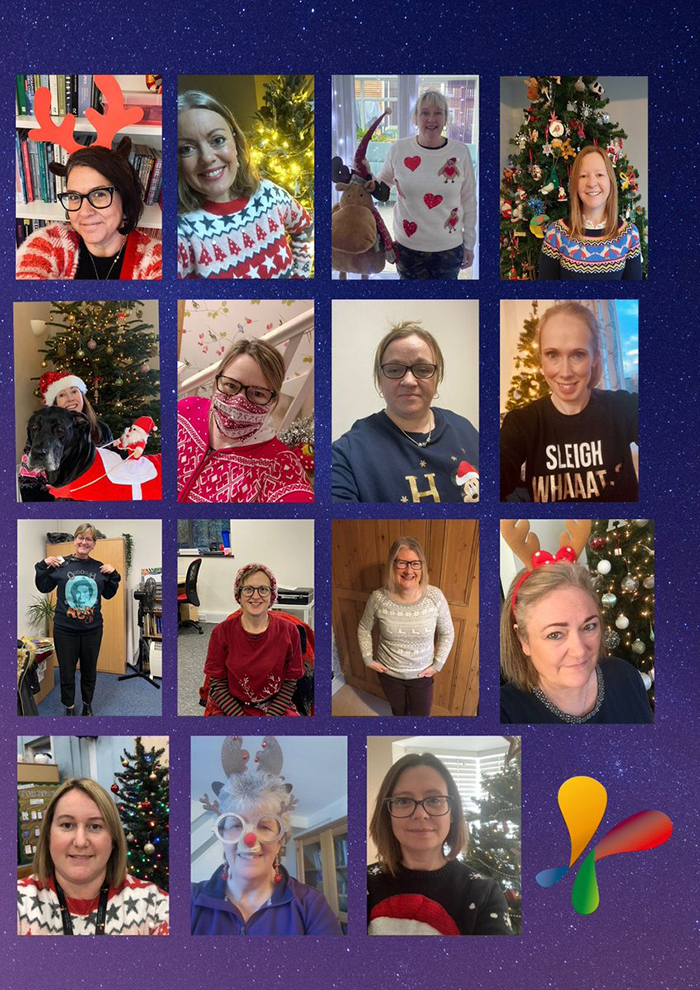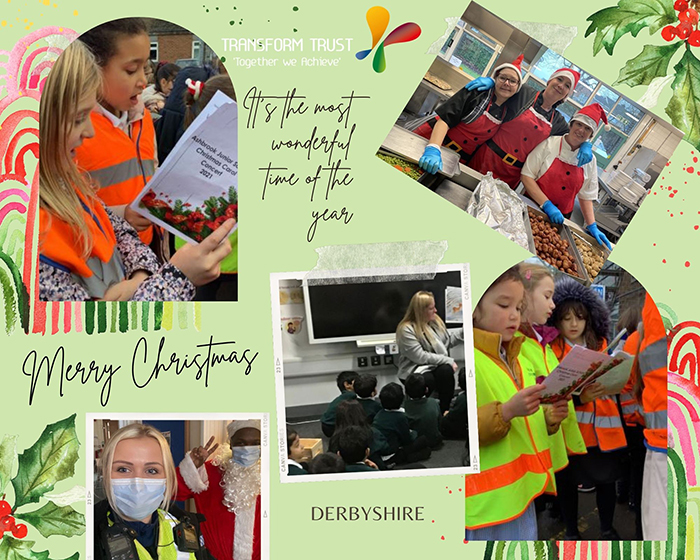 Our Derbyshire schools have wowed us with Christmas Carol services from Ashbrook Junior School to lovely Christmas lunches from the Lawn Primary School catering team. The team of mini police officers at Pear Tree Community Junior School received a very special visit from Santa – he sang their praises for their fantastic efforts within the community. Finally, Zaytouna Primary School read wonderful winter-themed stories to their classes and explored seasonal themes to generate in depth conversations amongst the pupils.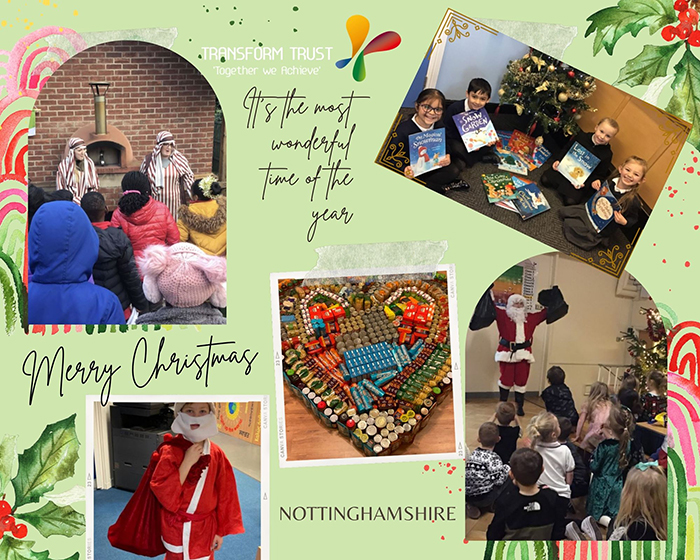 Our Nottinghamshire schools also wowed us with an impressive food bank collection with thanks to everyone at Rosslyn Park Primary School and a festive pilgrimage for Sneinton Primary School. Santa was invited to come and see  the children at Whitegate Primary School and spent some time getting to know them.  South Wilford had their own mini Santa Claus spreading lots of joy throughout the school! Edale Rise enjoyed their festive stories and explored different books with a winter theme.
Every school across Transform Trust made sure that their children enjoyed the last few days of 2021 and learnt the importance of being generous, kind and respectful.
Our CEO, Rebecca Meredith has also been busy spreading the joys of literature to all of our schools by sending them some festive books for our children to spend hours reading! This allows children to experience stories in a multitude of ways, from having a story read to them to having a physical book to hold and read independently or sharing tales in small groups- these are all important skills to continue practicing.
We hope you all had a wonderful time sharing the magic of reading and storytelling this festive season. Make sure to rest over the Christmas period, look after yourselves and together we can be at our best and ready for everything 2022 has in store for us.