Pear Tree Community Junior School in Normanton, Derbyshire is leading the way for the Midlands with their Mini Police Project working closely with the Derbyshire Constabulary. Similar projects have shown success in Lincolnshire and Wales and three schools in Derbyshire have been chosen with the aim to strengthen partnerships and give children a meaningful active citizenship experience. All Year 6 children can now work in the Mini Police force and will remain in role for the remainder of the academic year. They've excelled in their new positions so far and have completed their first mission to improve a local park and then their second festive mission by performing random acts of kindness.
The Mini Police Project gives children the opportunity to speak openly to community police officers and deepen their understanding of what a police officer does. It also builds trust and by giving young people a positive experience of policing, it may encourage them to report incidents in the future and reach out for help if they need it. This project hopes to inspire the children into a future career linked to the police force so that local officers represent the communities they serve. The tasks that they complete are also closely linked to their curriculum at school, so they can apply their classroom learning to a real community project and build life skills as well as retain important information.
The pupils will go into the community to carry out their duties, receive visits from the local Fire and Rescue Service and the RNLI.  Workshops covering topics such as road safety, cyber bullying and hate crime will also be on their agenda. An Attestation at the school took place on Wednesday 24th November with a very special visit from the Assistant Chief Constable, Michelle Shooter at Derbyshire Constabulary and the Police Crime Commissioner, Angelique Foster. The children from the three chosen schools in Chesterfield, Alvaston and Normanton were presented with their uniform and had their roles as mini police officers officiated.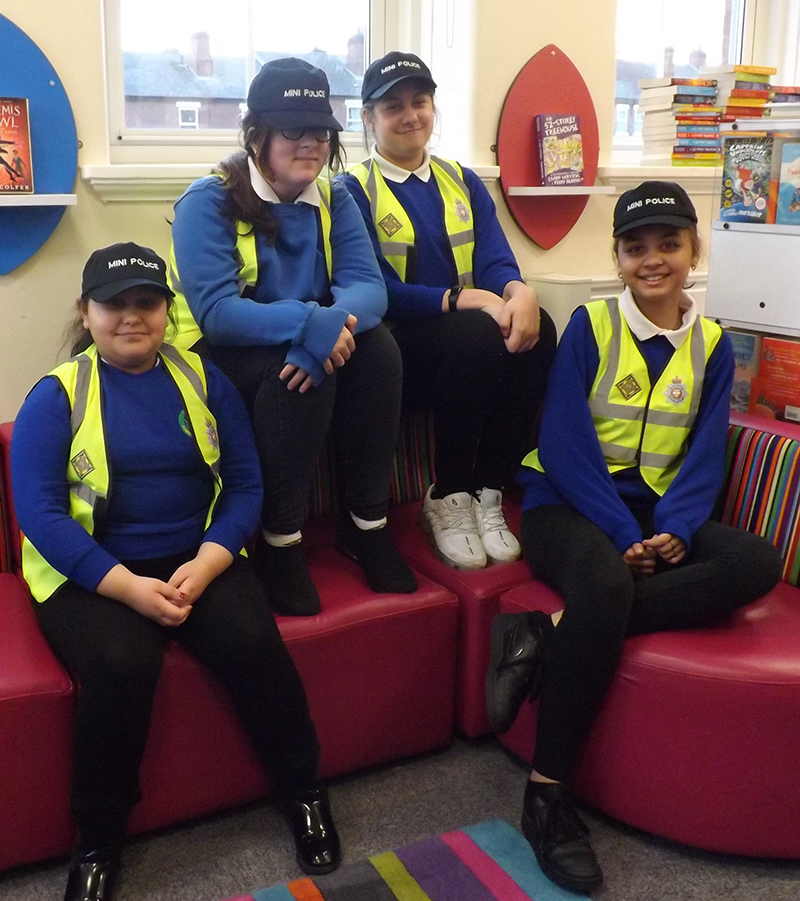 A short video of the ceremony is available here: https://twitter.com/DerbysPolice/status/1467078813351878658?s=20
Their most recent mission for the festive season included a visit to a local church, the police station and a care home to give out Christmas cards they had made. Inside the cards were carefully written phrases from the children wishing the community a happy, safe Christmas. This kind gesture has built the children's confidence both with writing and presenting the cards to members of the community.
Lily Mitchell, Police Community Support Officer said:
"The local community has been so supportive of the project and is looking forward to the mini police officers visiting them. This project gives the children the chance to be role models and speak openly with my colleagues and I about a wide range of topics. In 2022, we have some great initiatives planned with Derbyshire Police dogs visiting the school as well as looking at an undercover police car and learning about road safety by using our radar speed guns."
Forid Miah, Assistant Headteacher at Pear Tree Community Junior School said:
"This project aims to create great future citizens of Modern Britain and motivates children to go out into the local community and see all of their hard work making a difference.  This active citizenship links directly with their learning journey at school as well as equipping them for later life. Rather than shy away from difficult subjects, we have created a meaningful programme and partnership with Derbyshire Police and wider services to give children the citizenship education they deserve."
We are really excited to see this incredible partnership with Derbyshire Police grow as we head into the new year. We've seen some of the pictures that have been shared on social media and it has been a huge hit for the pupils at Pear Tree Community Junior School. We do hope this initiative inspires other schools to work closely with their local police force. As a Trust, we will continue to make a positive impact to our local communities.
If you'd like to follow Pear Tree's journey, please follow them on Twitter here.